Boekbanden literatuur 2010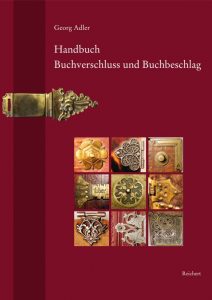 Georg Adler, Handbuch Buchverschluss und Buchbeschlag. Terminologie und Geschichte in deutschsprachigem Raum, in den Niederlanden und Italien vom frühen Mittelalter bis in die Gegenwart. Mit Zeichnungen von Joachim Krauskopf (Wiesbaden: Reichert Verlag, 2010).
Belgicana nostra. Exposition organisée à l'occasion du centenaire de la Société royale des bibliophiles et iconophiles de Belgique 1910-2010. Du 17 septembere au 30 octobre 2010 à la Bibliothèque royale de Belgique (Bruxelles: Société royale des bibliophiles et iconophiles de Belgique, 2010).
Bilderfreuden. Die Verlagsproduktion von Jos. Scholz Mainz im 19. Jahrhundert. Konzeption: Beatrix Mühlberg-Scholtz und Silja Geisler-Baum. Texte: Silja Geisler-Baum. Fotos: Martin Steinmetz (Mainz: Stadtbibliothek, 2010).
Book arts. Arts du livre Canada 1 (2010) – Tijdschrift ontstaan als samensmelting van Newsletter Canadian Bookbinders and Book Artist Guild en Journal Canadian Bookbinders and Book Artist Guild.
P. van Dam, De art deco van Ella Riemersma 1903-1993. Illustratrice en boekbandontwerpster (Eindhoven: (Z)OO producties, 2010) – Bevat tekstbijdragen van M. van Wijk-Sluyterman en J. Clements. Begeleidde een tentoonstelling in de Zeeuwse Bibliotheek in Middelburg van 26 januari-22 maart 2010.
Einbandforschung. Informationsblatt des Arbeitskreises für die Erfassung, Erschliessung und Erhaltung historischer Bucheinbände (AEB) Heft 27 (Oktober 2010) – Bevat o.a. een artikel van Constant Lem over zeemleren beschermruggen (pp.16-26) en een lijst met nieuwe literatuur (p. 69).
Encuadernaciones artísticas. En el Archivo de la Nobleza [tekst: Archivo Histórico Nacional, Sección Nobleza e.a.] (Madrid: Archivo Histórico Nacional, Sección Nobleza, 2010) – Uitgave t.g.v. de gelijknamige tentoonstelling in het Hospital Tavera in Toledo.
D. Etherington, Bookbinding & conservation. A sixty-year odyssey of art and craft (Newcastle, DEL: Oak Knoll Press, 2010).
Mirjam Foot, The Henry Davis Gift. A Collection of Bokbindings. Volume III A Catalogue of South-European Bindings (New Castle/Delaware/London: The British Library and Oak Knoll Press, 2010).
Historismus und Jugendstil. Verlagseinbände aus der Stadtbibliothek Mainz und der Sammlung Mühlinghaus. Konzeption: Gerard Mühlinghaus. Texte: Gerard Mühlinghaus und Annelen Ottermann. Fotos: Martin Steinmetz (Mainz; Stadtbibliothek, 2010).
Pamela Train Leutz, The thread that binds. Interviews with private practice bookbinders (New Castle: Oak Knoll Press, 2010).
Jacqueline Liekens, La reliure, technique et rigueur: passé-carton, chemise, etui, coffret (Dijon: Éditions Faton, 2010).
Krsitina Lundblad, Om betydelsen av böckers utseende. Bokhistoriska skrifter 5 (Malmö: Rámus, 2010) – Betreft Zweedse boekbanden uit de negentiende en het begin van de twintigste eeuw.
F. Malaguzzi, De libris compactis. Legature di pregio in Piemonte. Il Novarese 8 (Torino: Centro Studi Piemontesi; Torino: Regio Piemonte, 2010).
Met 6. Boek bindt Kunst – Pages reliées – Buch bindet Kunst. [Inleidingen:] Jan Camps en Boris Rosseeuw (Diest: Jan Camps, 2010) – Publicatie ter begeleiding van een tentoonstelling van werk van zes boekbinders in Antwerpen, Parijs en Mainz.
J. Miller, Books will speak plain. A handbook for identifying and describing historical bindings (Ann Arbor: The Legacy Press, 2010).
Richard Minsky, The art of the American book covers. 1875-1930 (New York: George Braziller, 2010).
R. Minsky, American decorated publishers' bindings, 1872-1929, Vol. 3: The third exhibition (Stockport, NY: Richard Minsky, 2010) – Oplage van honderd genummerde exemplaren.
Kathrin Paasch, "… so über die massen sauber in rothen Leder eingebunden". Bucheinbände aus der Forschungsbibliothek Gotha. Katalog zur Ausstellung der Universitäts- und Forschungsbibliothek Erfurt/Gotha im Spiegelsaal der Forschungsbibliothek Gotha auf Schloss Friedenstein 27. August bis 16. September 2010. Veröffentlichungen der Forschungsbibliothek Gotha 46 (Gotha: Universität Erfurt, 2010).
W. Schuhmacher, Willem Elsschot in boek en band. Een eerste inventarisatie van bandvarianten (Amsterdam: Antiquariaat Schuhmacher; Antwerpen, Willem Elsschot Genootschap, 2010).
J.J. Sobotová e.a., Umelecké knizi vazby [= Art of Bookbinding] (Loket: City Library, 2010) – Catalogus van een tentoonstelling van boekbanden van Jan en Jarmilla Sobota en hun zonen in de stadsbibliotheek van Loket (Tsjechië) van 23 augustus-3 oktober 2010.
Jan Storm van Leeuwen, Kunstenaars, ontwerpers en boekbanden. Nederlandse uitgeversbanden (1890-1930) in de Universiteitsbibliotheek Nijmegen. Catalogus bij de tentoonstelling mei-juni 2010 (Nijmegen: Universiteitsbibliotheek Nijmegen, 2010).
H. Strömquist, 'Med coleurt omslag'. Färgarde, decorade och trykta papperomslag pa svensk bokmarknad 1787-1846, en bokhistoria. Bokhistoria skrifter (Lund: Lunds universitet, 2010).
Trésor de Mariemont. Collection de bibliothèque. [Introduction générale: Pierre-Jean Foulon] (Morlanwelz: Musée royal de Mariemont, 2010).
Henry Van de Velde: Art Nouveau Bookbinding in Belgium (1893-1900). Corpus by Pascal de Sandeleer (Brussels: Bibliotheca Wittockiana, 2010) – Meertalige publicatie bij een tentoonstelling in de Bibliotheca Wittockiana van 6 oktober 2010 tot 16 januari 2011.
J. Weber, An annotated dictionary of fore-edge painting artists and binders. The fore-edge paintings of C.B. Curie (Los Angeles, CA: Jeff Weber Rare Books, 2010).